-
Being a child of the 70s, I grew up during one of the golden ages of boxing. Yes, there have always been boxing fans who could spout round by round stats of the Max Bear vs. James Braddock fight. Boxing will ALWAYS have those fans.
Beyond that though, boxing held a healthy presence within mainstream pop culture. Fight results were on the evening news, and were discussed around the water cooler. Plus, any Jane or Joe could tell you who "the champ" was.
-
In 1971, Muhammed Ali and Joe Frazier both had justifiable claims to the World Heavyweight Championship Title. An undefeated Ali had won the title from Sonny Liston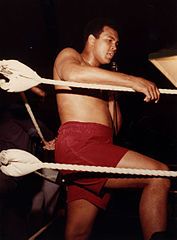 Title: Muhammad Ali during a Boxing Match in Washington | This image was taken from Flickr's The Commons. The uploading organization may have various reasons for determining that no known copyright restrictions exist.
in Miami Beach in 1964. Ali successfully defended his belt up until he had the title stripped from him, for dodging the Viet Nam draft, for spiritual reasons, in 1967.
During Ali's incarceration, the undefeated Frazier won two championship titles by knocking out Buster Mathis and Jimmy Ellis.
Once Ali gained his freedom, he challenged Frazier, who was now recognized by boxing authorities as the World's Champion.
The fight was an event. New Yorkers protested ticket prices which ranged from $20 for a balcony seat to $150 for ringside. Celebrities such as Lorne Greene and Burt Lancaster donned formal attire to attend the fight. Locations across the U.S. and Canada screened the fight on closed circuit television to fans paying $5 to $15.
As I said, the bout was more than a boxing match, it was an event. People cared about the outcome, it was what was happening at the moment. Three years later, the world was captivated again by Ali's & Foreman's Rumble In The Jungle.
-
Today's bouts aren't awarded the same level of fanfare. Sure, hardcore fans keep boxing alive on TV and keep Pay-Per-Views profitable for HBO & Showtime. However, boxing isn't the water cooler topic it once was, and boxers are no longer house hold names. I can't even remember the last time I saw a boxing result being reported on the evening news.
In
Rocky III
, Mickey told Rocky,
"...the worst thing happened to you, that could happen to any fighter. You got civilized."
One might argue that the mainstream populace, "got civilized," and have outgrown violence as entertainment.
To that, I say, "poppy cock!" If we'd outgrown violence, MMA & WWE, which is a faux sport at best, wouldn't be as popular as they are. No, I think the reason for the decline in popularity may lie in the fact that championship fights are too common.
In the old days, there were eight weight classes...,
Flyweight: 8 st (50,802 Kg / 112 lbs)

Bantamweight: 8 st 6 lbs (53,525 kg / 118 lbs)

Featherweight: 9 st (57,153 kg / 126 lbs)

Lightweight: 9 st 9 lbs (61,235 kg / 135 lbs)

Welterweight: 10½ st (66,678 kg / 147 lbs)

Middleweight: 11 st 6 lbs (72,574 kg / 160 lbs)

Light Heavyweight: 12½ st (79,378 kg / 175 lbs)

Heavyweight: (unlimited)

...and
one champion
per weight class. Today we have multiple weight classes, some with more than one name, and different sanctioning bodies recognize different champions for each weight class. Below are listed the weight classes' main champions for the three top sanctioning bodies.
-
Title                   WBA                 WBC                 IBF      

HEAVYWEIGHT             Wladimir            VACANT              Wladimir
(unlimited)             Klitschko                               Klitschko
                        61-3 (51)                               61-3 (51)

CRUISERWEIGHT           Denis               Krzysztof           Yoan Pablo
(190 pounds)            Lebedev             Wlodarczyk          Hernandez
                        25-2 (19)           49-2 (35)           28-1 (14)

LIGHT HEAVYWEIGHT       Beibut              Adonis              Bernard
(175 pounds)            Shumenov            Stevenson           Hopkins
                        14-1 (9)            23-1 (20)           54-6 (32)

SUPER MIDDLEWEIGHT      Andre               Sakio               Carl
(168 pounds)            Ward                Bika                Froch
                        27-0 (14)           32-5 (21)           32-2 (23)

MIDDLEWEIGHT            Gennady             Sergio              Felix
(160 pounds)            Golovkin            Martinez            Sturm
                        29-0 (26)           51-2 (28)           39-3 (18)

JUNIOR MIDDLEWEIGHT     Floyd               Floyd               Carlos
SUPER WELTERWEIGHT      Mayweather Jr.      Mayweather Jr.      Molina
(154 pounds)            45-0 (26)           45-0 (26)           22-5 (6)

WELTERWEIGHT            Marcos Rene         Floyd               Shawn
(147 pounds)            Maidana             Mayweather Jr.      Porter
                        35-3 (31)           45-0 (26)           23-0 (14)

LIGHT WELTERWEIGHT      Danny               Danny               Lamont
SUPER LIGHTWEIGHT       Garcia              Garcia              Peterson
(140 pounds)            28-0 (16)           28-0 (16)           32-2 (16)

LIGHTWEIGHT             Richard             Omar                Miguel
(135 pounds)            Abril               Figueroa            Vazquez
                        18-3 (8)            22-0 (17)           34-3 (13)

JUNIOR FLYWEIGHT        Takashi             Takashi             Argenis
LIGHT FLYWEIGHT         Uchiyama            Miura               Mendez
(108 pounds)            21-0 (17)           27-2 (20)           21-2 (11)

JUNIOR LIGHTWEIGHT      Simpiwe             Jhonny              Evgeny
SUPER FEATHERWEIGHT     Vetyeka             Gonzalez            Gradovich
(130 pounds)            26-2 (16)           55-8 (47)           18-0 (9)

FEATHERWEIGHT           Guillermo           Leo                 Kiko
(126 pounds)            Rigondeaux          Santa Cruz          Martinez
                        13-0 (8)            27-0 (15)           30-4 (22)

JR FEATHERWEIGHT        Anselmo             Shinsuke            Stuart
SUPER BANTAMWEIGHT      Moreno              Yamanaka            Hall
(122 pounds)            34-2 (12)           20-0 (15)           16-2 (7)

BANTAMWEIGHT            VACANT              Srisaket            Daiki
(118 pounds)                                Sor Rungvisai       Kameda
                                            26-3 (24)           29-4 (18)

JR BANTAMWEIGHT         Juan Francisco      Akira               Amnat
SUPER FLYWEIGHT         Estrada             Yaegashi            Ruenroeng
(115 pounds)            25-2 (18)           19-3 (9)            12-0 (5)

FLYWEIGHT               VACANT              Adrian              Jhonreil
(112 pounds)                                Hernandez           Casimero
                                            29-2 (18)           19-2 (11)

MINIMUMWEIGHT           Hekkie              Oswaldo             Katsunari
STRAWWEIGHT             Budler              Novoa               Takayama
(105 pounds)            25-1 (8)            13-4 (8)            26-6 (10)
-
I say, "main champions," since many weight classes now have interim belts, which have bizarrely been made permanent. This, coupled with the fact I didn't even have room to list the WBO's title holders, means viewers can watch a "title fight" almost every week. The commonality of such fights have removed them from the realm of the special event, and plopped them into the realm of the mundane common occurrence.
Equally problematic is the fact that such bouts aren't hard for fighters to get. In the old days, fighters had to have forty to sixty wins, against mostly top ranked opponents, before the were even offered a shot at a title. Today, Boxers with less than twenty professional fights under their belts, have been given title shots and hold titles.
There's no way champions such as strawweight champion Oswaldo Novoa (13-4), light heavyweight champion Beibut Shumenov (14-1), and jr. bantamweight champion Amnat Ruenroeng (12-0) have fought enough tough fighters to work themselves up to the championship level.
Additionally, we have famous champions such as heavyweight champion Wladimir Klitschko (61-3) and super welterweight/welterweight champion (even though it's technically illegal to be champion of two weights at the same time) Floyd Mayweather Jr. (45-0) who fight like slow plodding robots and are boring to watch.
The results of these factors are a plethora of title fights, in name only, featuring participants the average viewer can't get behind as a hero, the way they got behind Joe Louis, James Braddock, and Muhammad Ali.
The sad part is, there ARE hero caliber fighters out there who could rally the masses. Gennady Golovkin, Canelo Alvarez, and Arthur Abraham are action fighters who are very entertaining to watch. The problem is that only hard core boxing fan know about these fighters. Their promoters aren't reaching the average Joe and creating hype among the masses.
Bottom line, boxing won't work itself back into the mainstream until it can furnish fans with a single dynamic champion, whom the masses can root for with a fervor.
-
Championship chart prints as page 3, at 80% magnification, for your files or bulletin board.
-