-
Title: Teddy Atlas | Date: 11/17/2011 | Photographer: Mike L Photo's | This file is licensed under the Creative Commons Attribution 2.0 Generic license.
I love boxing. Heck, I enjoy hearing Teddy Atlas call a fight. Having trained Micheal Moorer, Alexander Povetkin, Donny Lalonde, and other boxing greats, Teddy successfully conveys a knowledge of, and passion for, the sweet science.
However, the gung ho poker player in me has to take issue with Teddy Atlas's statement, on March 7th's Friday Night Fights. Poker star Phil Ivey made a guest appearance, helping Teddy act out his "keys to victory" segment. Next thing you know, Teddy's going on and on about how poker doesn't require mental toughness. He did a whole 5 minute rant about it.
Don't misunderstand, I think it's inappropriate to refer to poker as "a sport," and to see poker players listed as "athletes" on sites such as Facebook. When one can play a game with nachos and a cocktail in front of them, that's not a sport, or athletic endeavor of any kind. Trust me, if I can play something, then it's a good bet that no athletics are involved.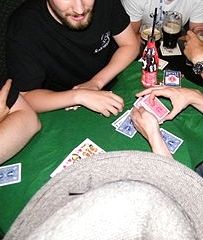 Title: Wikimedians playing power at the Irish House during Wikimania. | Date: 08/04/2011 | Photographer: Missvain | This file is licensed under the Creative Commons Attribution-Share Alike 3.0 Unported license.
However, poker DOES take mental toughness. Keep in mind, high stakes players may very well have tens of thousands of dollars at risk. To fold 3 of a kind, with 1/3 of your stack in the pot, and never know for sure if your opponent hit his straight takes mental toughness.
I think I'm a big fan of both poker & boxing, specifically because they are both about mental toughness/discipline & well timed aggression.
It was a ridiculous point to get worked up about under ANY circumstances. The fact that his celebrity was a professional poker player, morphed his comments from being merely ridiculous into being down right rude. Bottom line, Teddy didn't need to bad mouth poker in order to promote the boxing.
-