-
Irene Martin
, of
www.privatewriting.com
, is
a copywriter working on building and improving her online presence. Interested in education, literature and writing she asked if she to do some guest writing on this blog.
Since the holidays are upon us I told her, "
I'd be interested in a piece on Christmas themed literature (its history, a "best of" list, etc...)." She responded it the following piece listing her picks for the 10 best Christmas books of all time.
Please note, paragraphs referring to some of the older works (A Christmas Carol, etc...) contain minor spoilers. However, the only "spoiled" stories are pieces which 99% of us are extremely familiar with.
-
The Top 10 Christmas Books, by Irene Martin
Though it comes just before the end of the year, Christmas, to many people, may be "the most wonderful time of the year." The joyful energy in the air, the majestic medley of lights, the wondrous food, the boundless holiday cheer and heartfelt giving – and some folks even like the songs that play incessantly every holiday season.
But it's also a great time for literature – not only because reading is one of the best, most natural things to do when it's cold outside, but because some of history's best literature is Christmas-themed.
Below are (quite possibly) the 10 best Christmas books of all time! Enjoy!
-
THE LIST
10. The Christmas Train – by David Baldacci
OK, so it's not exactly Dr. Seuss'
How the Grinch Stole Christmas
. That is quite a bit further down on the list. Internationally bestselling American author David Baldacci is one of today's most engaging novelists. Even though
The Christmas Train
is not his usual thriller about Washington, D.C., it does, however, include a life-changing, cross-country train ride at Christmas; it's got a bit of holiday magic too.
Like most good Christmas stories, it illustrates a person's rediscovery of the essential goodness in people. Baldacci's website says this "tale shows how we do get second chances to fulfill our deepest hopes and dreams, especially during the season of miracles."
9. The Greatest Gift – by Philip Van Doren Stern
First published as a virtually unknown short story (then published as a book),
The Greatest Gift
is the story that would inspire the classic Christmas film
It's a Wonderful Life
(1946), which has been named number 11 on the American Film Institute's list of the best American movies ever made. It's the story about a discontented, miserable and married man finding gratitude in realizing that life is a precious gift. It follows the same theme present in most Christmas-themed literature: there is a transforming magic in the air during the Christmas season, almost inexplicably touching everyone, whether they want to believe it or not.
8. The Life and Adventures of Santa Claus – by L. Frank Baum
The first Christmas children's book on the list, but certainly not the last,
The Life and Adventures of Santa Claus
(1902), written by L. Frank Baum who wrote
The Wonderful Wizard of Oz
, tells the story of Santa's origins, his giving of the first-ever toy, and explains the how the merry "old St. Nick" came to give gifts to children all over the world and how he was ultimately given immortality. It's a touching tale reminding those who may have lost their imagination at one point or another that the end of the year, Christmastime, is the perfect time to get it back – at least a little of it.
7. The Father Christmas Letters – by J. R. R. Tolkien
The prolific author of The Lord of the Rings had a very gentle heart for his own children's imagination at Christmastime. So much, in fact, that for over 20 years he gave each of his four children, beginning from the time that they were very young, letters from Santa himself (but truly written by Tolkien). Tolkien's daughter-in-law would later gather the letters and edit them, having them published into a book by Houghton Mifflin in 1976, three years after the author's death. Mainly about his (Santa's) travels and adventures with his elves,
The Father Christmas Letters
has received positive praise for its influence on Children's literature.
6. The Homecoming: A Novel About Spencer's Mountain – by Earl Hamner Jr.
Certainly more known for spawning the hit TV series The Waltons,
The Homecoming: A Novel About Spencer's Mountain
is Earl Hamner Jr.'s story about a family in the mountains of Virginia during the Great Depression. It's snowy, frigid Christmas Eve and, as the night emerges, the family grows increasingly concerned for their patriarch who has not yet returned home from work. The Homecoming, part adventure, part holiday drama, is a warm and wonderful classic of American literature that illuminates the triumph of the human spirit, a theme running in many of the holiday's best literature.
5. How the Grinch Stole Christmas – by Dr. Seuss
In this Christmas classic for children (though some adults love it, too), the terrible Mr. Grinch tries to sabotage Christmas for the peaceful village of Whoville, home of the merry and warm-hearted Whos. With a heart "two sizes too small," the bitter and grouchy, cave-dwelling creature, hearing the noisy Christmas festivities nearby in Whoville, suddenly decides to stop their Christmas and looks to steal their presents, trees and food for their holiday feast. But after doing so, he expects to hear their languished cries Christmas morning; instead, he hears them singing a joyous Christmas song.
What is so wonderful about this story is the Grinch realizing the holiday is so much more than gift giving and feasting; learning this, his small heart suddenly grows three sizes larger. He ends up returning all of the the presents and is warmly invited to spend the holidays with the Whos.
4. The Gift of the Magi – by O. Henry
O. Henry's 1906 Christmas classic, originally a short story (but published in one of Henry's anthologies), is one of the most touching stories of all time. It is the story of a selfless, enduring love shared between a young couple who want but can't afford to buy each other Christmas gifts. Each sells their most precious possession to get the other a worthwhile gift.
The Gift of the Magi
is an important reminder that love endures, that it is all people ever really need in life. It also reminds readers that giving something of one's self is perhaps the greatest gift of all.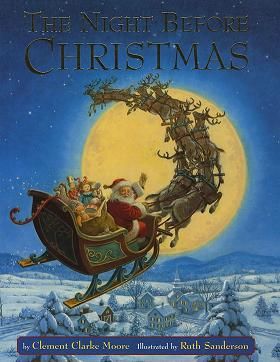 3. The Night Before Christmas – by Clement Clarke Moore
First a poem published anonymously in 1823,
The Night Before Christmas
, later attributed to Clement Clarke Moore, has become a yearly tradition for many American families who read the book each year on Christmas Eve – just hours before Old St. Nick shows up with presents. The relatively short poem is about a sleeping father who, after being suddenly awakened when St. Nicholas lands on the roof, sees the "jolly, old elf" himself leaving his children presents, then flying away in his sleigh. The story tugs at the imagination of readers, especially young children, and truly captures the magic surrounding the wonderful holiday season. It rhymes, too, and is a lovely narrative.
2. The Polar Express – by Chris Van Allsburg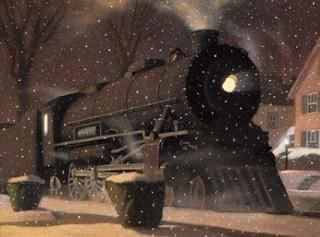 A generally short book adored by many – both children and adults –
The Polar Express
is the heartwarming story of a little boy who no longer takes joy in Christmas. On Christmas Eve he catches a train ride on the "Polar Express" to the North Pole and gets to see Santa Claus and his elves at work; he then wakes up the next morning, Christmas Day, with the same joy and sense of wonder that he had been missing for so long. It's the perfect story illustrating how easily one's imagination (and its corresponding joy) can potentially be lost forever; that is, unless they can return to the innocent mentality of a child … even if it is for a just a short while.
1. A Christmas Carol – by Charles Dickens
Certainly one of the best Christmas stories of all time, if not the best, Charles Dickens'
A Christmas Carol
is a holiday classic read and enjoyed by people all over the world. Like the Grinch in How the Grinch Stole Christmas, Ebenezer Scrooge, a rather cold and miserly person, undergoes a life-altering experience at Christmas. On Christmas Eve, three different ghosts visit him during the night while he sleeps. It's a series of dreams, but it all seems too real to him. Ultimately, in his dreams, he is showed how his existence could end if he goes on living with his bitter resentment toward life and with a general disdain for all the people in his own life. Thinking he has died a lonely, awful death (which comes after living a selfish, greedy, bitter and even lonelier life), Scrooge wakes up Christmas morning a renewed person, joyful, charming, full of positive energy and acts lovingly to literally every, single person he sees.
The story of
A Christmas Carol
is an engaging reminder to adults, those who may have been hardened by life, that it's never too late to live with love and gratitude and with a general compassion for others, because it's never too late to change for the better.
-
Well, that's quite the list. I might have included John Grisham's
Skipping Christmas
in there somewhere. However, with multiple retellings of Dickens' classic book in existence, including; 1970's cinematic
Scrooge
(a musical film adaptation starring Albert Finney), 1979's
An American Christmas Carol
(starring Henry Winkler), 1998's
The Passion of Scrooge
(a chamber opera by Jon Deak for one baritone and chamber orchestra), and
many more
; nobody can dispute Irene's #1 pick.
What's your favorite Christmas story?
Leave your answer in the comment section below.
-