-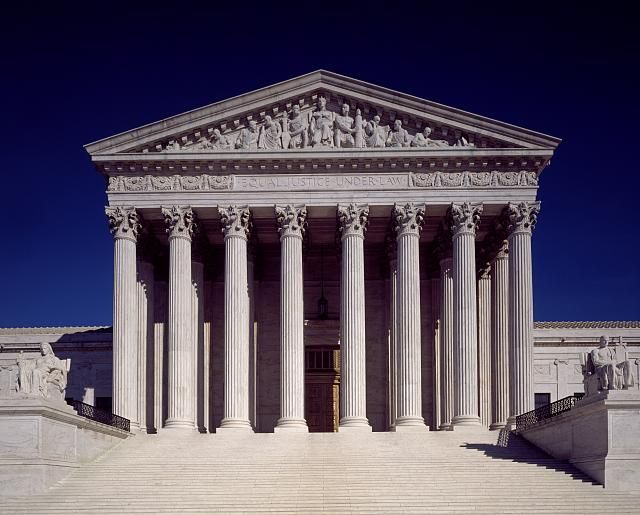 On the morning of June 26, 2013, the U.S. Supreme Court struck down the
Defense of Marriage Act (DOMA)
, the law which prevented the federal government from recognizing same-sex marriage, in a narrow 5 to 4 vote.
In the opinion for the majority, Justice Kennedy wrote,
"The federal statute is invalid, for no legitimate purpose overcomes the purpose and effect to disparage and injure those whom the State, by its marriage laws, sought to protect in personhood and dignity. By seeking to displace this protection and treating those persons as living in marriages less respected than others, the federal statute is in violation of the Fifth Amendment."
In a sister decision, regarding
Hollingsworth vs. Perry
, the court ruled that the traditional marriage activists who originally put
Proposition 8
on California's ballot had no legal standing to appeal the ruling which struck down the state's ban on same sex-marriage. The ruling essentially legalized same sex marriage in California, making it the 13th state to recognize the institution.
While these rulings are being hailed as milestones for equal rights, they do leave some questions unanswered. According to the
Full Faith and Credit Clause
of the Constitution, a marriage which is legally performed in one state is recognized as valid in all 50 states, yet according to the DOMA ruling,
the federal government must recognize same-sex marriage in all states where such marriages can legally obtained
. So, if a same-sex couple marries in one state, then moves to a non-same-sex marriage state, does the federal government still recognize the marriage?
Instead of trying to answer questions such as that, Tea Party poster girl, Representative Michele Bachmann (R-Minn.) offered this public statement:
"Marriage was created by the hand of God. No man, not even a Supreme Court, can undo what a holy God has instituted."
Representative Bachmann, and others like her, are still trying to use God as an excuse to deny equal rights to same-sex couples. Being a Christian myself, I find such use of God's word to be highly offensive.
-
A BRIEF DETOUR VIA MY SOAP BOX
2000 years ago, when Christ walked with the apostles, old people were taken care of by their adult children or they weren't taken care of. Thus, marriage that couldn't produce children, same-sex marriage, was considered to be taboo for practical reasons by Judeo/Christian thinkers. Such a taboo may have been a product of the best thinking of the time, but it's just wrong by any modern standard.
Faith should never be used to justify bigotry. In my mind, having true faith means accepting people's differences & trusting that God knew what He was doing when He made people the way He made them. HE KNOWS WHAT HE'S DOING!
SOAP BOX DETOUR ENDS
-
Civil rights still have a long row to ho in this country. However, these two rulings have put us ever so much closer to realizing true equality across the board.
-
The courthouse picture above was created by a government unit of the United States and is in the public domain under U.S. law.
-
Follow my blog with Bloglovin