-
The American poet
Adelaide Crapsey
invented the modern form, known as
American Cinquain
. Inspired by the Japanese poetry form,
Haiku, Crapsey
decided to make the criterion a stanza of
five lines of 2, 4, 6, 8, and 2 syllables
.
Below are three season appropriate
Cinquains
I've written lately. Enjoy.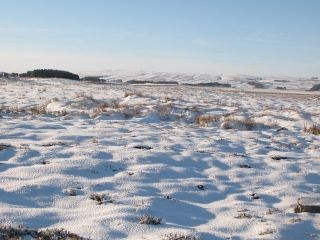 Title: Snowy moorland west of Crawberry Hill | Date: 12/28/2009 | Photographer: Mike Quinn | This image was taken from the Geograph project collection. See this photograph's page on the Geograph website for the photographer's contact details. The copyright on this image is owned by Mike Quinn and is licensed for reuse under the Creative Commons Attribution-ShareAlike 2.0 license.

Snow & Ice
Snow falls...
On lonely hills,
As small children ice skate,
Upon the newly frozen lake,
Below.
Saint Nick's Night
Saint Nick...
Slides down chimneys,
Packing loads of wrapped joy,
For youngsters sleeping in warm beds,
Tonight.
Waiting For Christmas Dinner
Roast bird,
And sage dressing,
Populate the table,
While hungry eaters await the,
Blessing.
-